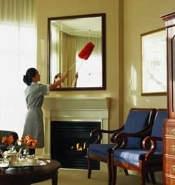 London Cleaning House offers a detailed deep cleaning house services that includes everything in a routine service and more. The service is designed to perfectly clean once a year when "spring cleaning" or when moving in to a new home and you want everything sanitized and sparkling. Deep cleaning will bring your home up to a high shining perfection and will stop you from wasting time and cleaning up every now and then when the time let you do so. A deep cleaning will get your home "ready to show" for company or letting agent if you are planning to rent or sell it.
Our deep cleaning service is serious, heavy duty, detailed deep house cleaning from top to bottom. Deep cleaning can be done on your house, office, apartment or just specific areas from your dwelling. Deep cleaning includes all of the regular cleaning plus cleaning that is paid attention to the detail.
Seeing as a major clean up often deep cleaning happens once a year, take advantage of the tidy state of affairs and treat your house to a deep clean, doing the jobs that always get put off until next month. That means wiping down the sofa, windowsills, shower curtain and bin, polishing furniture and dusting ornaments, washing lace curtains and cushion covers and cleaning and dusting skirting boards.