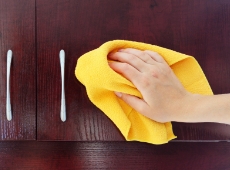 London Cleaning House specialises in regular domestic cleaning services and employs only experienced and well trained cleaners. We implement the latest cleaning equipments and use eco -friendly cleaning products in order to provide our customers with top quality services. We believe that our rates are the most competitive in the industry. If you manage to find a cleaning agency with better prices than the ones listed here, give us a call and we will beat any other quote. Here is more information about what the domestic cleaning package includes:
Rooms & Living Areas
Our team dust and polish skirting boards, light fixtures, furniture, sills, shelves and blinds. We vacuum/mop all floors, carpets, rugs and stairs and clean glass surfaces.
In the Bathroom
We clean the toilet, all showers, baths, and sinks inside and out.
In the Kitchen
In the kitchen a representative of London Cleaning House will clean, dry, and shine all appliance surfaces, range hood, and sink. All kitchen floors will be sanitized and polished where applicable. If necessary they will clean the microwave oven inside and out, including turntable.
Depending on your needs you are able to arrange daily, weekly, monthly, or one time cleaning. Our team is available every day starting at 8 am and ready to satisfy all your cleaning needs. You can check what our recent clients have to say about us here . For more information about our services, prices or booking a cleaner please contact us via phone or e-mail.